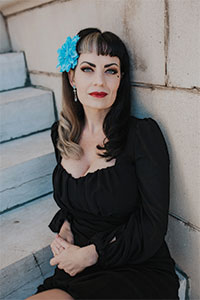 Originally from Phoenix, Arizona, Tiara definitely claims Oklahoma as her home. Tiara grew up watching and learning from world renowned Aesthetician Charlotte Bates of Clinical Care and set out to bring her dreams to reality. Her inspiration is people that not only have dreams of success but pursue them in such a passion that it's hard to take your eyes off them.
Tiara specializes in custom facials, Xtreme Eyelash extensions and waxing. She strives to provide the best custom and relaxed facials her clients will ever receive. She says, "I want to make everyone as beautiful as I see them! I want them to leave Revel Eight feeling confident, beautiful and know they have not only an aesthetician that cares about the surface but also about them."
In her free time, Tiara enjoys doing special FX makeup artistry whenever possible. Spending time with my friends and beautiful family, traveling, writing and anything that gets my adrenaline pumping!