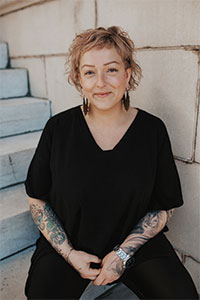 I am Rachel Baldwin and I was born a hairdresser. My earliest inspirations are of my southern bell granny and the immaculate gowns she made me as a very young child and how she would revel in the delight of styling my hair to Jesus. My mother is the biggest inspiration; she raised me on fashion tv and thrift store shopping. She taught me to stay focused on my dreams and to always strive for greatness, regardless the cost.

I have been cutting, coloring and styling hair for as long as I can remember. Growing up the daughter of a military man and traveling many places in the world has taught me to love culture and diversity.

I've always been interested in the tougher hair textures to tame. I've found Brazilian Blowout Smoothing treatment to be the best treatment to take away 100% frizz and to soften and smooth unruly textures. I live for color. The spice of culture! Color and texture paired together we can create anything we want. I enjoy all styles of hair color but my preference is low maintenance, naturally accented designs. Balayage color techniques are my specialty.

I am constantly seeking the best continued education that money can buy to provide my clients current, personalized style. I travel continually to bring back my inspirations to my clientele that I love whole heartedly.