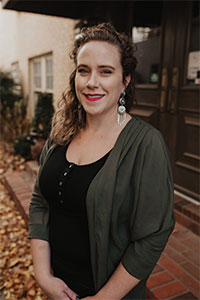 Kayla has been a licensed barber for over eight years. She specializes in both coloring and cutting. Her talents include coloring, custom blending, highlights, lowlights, texture treatments and color correction using Keune coloring system. She is also certified for the application of Hot Headz hair extensions.
She trained under a Goldwell master colorist and attended multiple creative color classes.  Kayla mastered her hair cutting skills by learning and practicing the Tony&Guy cutting method as her base knowledge in barber school. Her extended training with Aveda master stylist, David Gatt, along with full Aveda color knowledge has allowed her versatile cutting and coloring design techniques.
Kayla's passions and inspirations branch from an intense love of the outdoors, traveling and music. It all inspires her work in the hair industry and at home through cooking, gardening and crafting. She believes everyone has a basic need to create.  To create a feeling of excitement, joy, and self-love to her clients through their hair is the most important and rewarding part of it all.