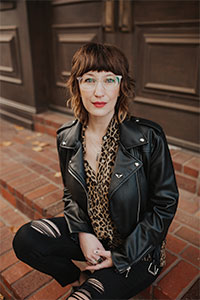 Jandi is a former aesthetician, blogger, and singer who found her passion in salon management and administration after spending years trying to work her love of art and fashion into and around her mundane office jobs.
Having been closely connected to the hair industry through many friends for many years, things slowly but naturally came into focus for her, revealing that she could grow in all the avenues she had always imagined.
You can often here her refer to her position at Revel 8 as her "dream job", giving her opportunities to use both the right and left sides of her brain every day while working hard and laughing alongside her friends and mingling with clients: creating, organizing, and socializing. She is our social media director and the salon coordinator at Revel 8 Salon & Spa in midtown.