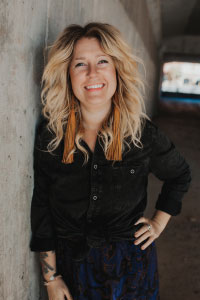 As a native Oklahoman, Hannah has always been interested in hair and loved playing with hair all growing up. Hannah graduated from the academy of hair design, along with her sister Bethany, who also works at Revel8.
Hannah makes it a priority to listen very well to clients' desires and does her best to achieve those goals. Keeping the integrity of the hair is important to her. She does this through detailed consultations, actively listening repeating back what I've heard to make sure we're on the same page. She loves working with all hair types such as curly hair, men's styles and short woman's cuts 'I love making short woman's hair look feminine'.
When not behind the chair, Hannah enjoys continuing her education. She thinks if you stop learning you stop growing so she developed a love for learning at an early age. She's taken an advanced cutting course with Sally Rogers Education. Also advanced color courses with Goldwell color. She is certified in Coppola Keratin Treatments.
Hannah specializes in creative up styling for weddings or special events, facial waxing and perms.