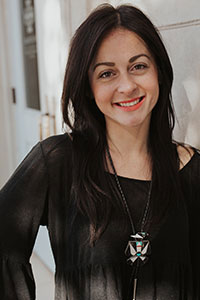 Hannah is a passionate young hair artist from Oklahoma City. Her studies range from substance abuse counseling to fashion marketing, but she found that her heart lies in the art of hair design.
She attended The Academy of Hair Design where she graduated with a creatives diploma and went on to receive her license in cosmetology.
Since starting her career at Revel8, Hannah has grown tremendously. She is now Keune, Oribe, and Unite educated, and has received education from some of the best hair artists in the world.  Continued education is her top priority, so she pursues every opportunity that she can in order to keep herself growing and to always be able to deliver what her clients are looking for.  She believes in educating her clients as well, so that they have all of the tools they need to achieve the look they desire after they leave the salon.
Hannah always spends time consulting with every client before each service to ensure thorough communication and satisfaction. She loves the interaction with her clients and the connection that she makes with each and every one of them. She believes that it is important to not only make her clients look beautiful, but to FEEL beautiful and to build trust and loyalty with them.
Hannah specializes in dimensional, beautiful colors and creating the best shapes for each individual client. Her work has been featured by Keune with some of the top stylists in the country. Her exceptional education has given her the ability to recognize and match the most ideal color for a client's skin tone, eye color, and personal style. She loves working with color that enhances the client's natural beauty, but she never passes an opportunity to work with those eye-catching fantasy shades and pastels. The spectrum is endless for Hannah, and she works with her clients as a team to get them where they want to be.
When she's not with her Revel8 family, Hannah is going on adventures with her dog Buckley, relaxing with her family, or traveling the country for education.