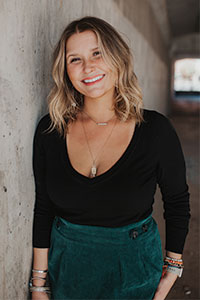 An Oklahoma native and founder of Revel Eight Salon and Spa, Claire has always dreamed of bringing a revolutionary element to Oklahoma's metro salon/spa scene. She has been fascinated with hair since she was a little girl, which blossomed into the creation, design, and launch of her own exclusive salon and spa. Revel Eight currently thrives in the midst of the renaissance of the trendiest, most "happening" area of OKC—Midtown.
With the success of Revel Eight, Claire began to see a further need in OKC. Currently Claire has taken a step back from behind the chair to grow Revel Eight and its' portfolio. Revel Eight Grooming & Shave Shop and Revel Eight Nail Studio will be opening in the Historic Main Street Arcade building located in the Film Row/Downtown Historic District in 2017.
A hair designer with over a decade of experience, Claire has studied under many of the top artistic and business educators in the world, she believes education is key and that transcends into every aspect of her business. Her personal priority is to her team, keeping her salon updated and inspired through in-house education—, by consistently providing unique educational opportunities for her staff and offering business tools to support and build her team. She always has an advanced training session on the horizon–either to teach in house, to attend at home or abroad!
Claire's passion is sparked by her love for people and helping others, with her deep commitment, Claire and Revel Eight provide the greater OKC community with a refreshing experience of reveling in the luxury of being yourself and receiving stellar services that compliment.
In her free time, Claire enjoys traveling and spending time with her multi-talented husband Tony, an artist. The Westlund's just welcomed their first babe in 2017!
Claire's philosophy of life is evidenced in her Revel Eight mission: be creative, think innovatively, get comfortable being uncomfortable, be open, educate often, ask questions, fill up on the positive, don't forget to be grateful in the present and excited for what's to come…